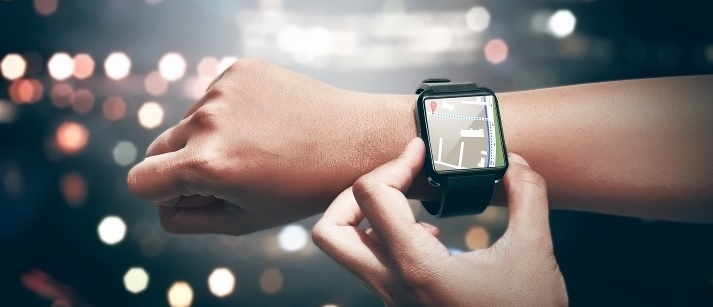 Wearables are enjoying a surge in popularity, with smartwatch unit sales growing to 141 million worldwide in 2018 – an increase of 136 million from 2014.
With this heightened popularity, it's clear that wearables are enriching people's lives in more ways than one, ranging from fitness tracking, geolocation, video-calling or simply the features of a mobile – but all from your wrist.
Understandably, the travel industry is keen to embrace the trend.
For travel, the key benefit of wearables is that they're 'always on'. Users can get the benefit of highly accessible travel information from wherever they are in the world, making the travel process easier – and giving the industry an opportunity to interact with travellers in real-time.
Wearables for Business Travel
Consumers are embracing wearables, and not just in for their personal lives. The business travel industry has begun to recognise the benefits of wearables in providing a more informed trip experience. Some companies have embraced the technology wholeheartedly, aiming to offer travellers a more functional itinerary.
In fact, 81% of wearable consumers ranked functionality as their top reason for owning a wearable, alongside comfort at 79%. It's clear that corporate travel can utilise wearables for better functionality and provide an enhanced travel experience.
For the frequent traveller, the ability to present an e-ticket barcode on their wrist can save the hassle of dropping suitcases to find their travel documents, while also keeping up-to-date with reminders, alerts, and additional trip details – providing the peace of mind that everything they need for a trip is (literally!) right at hand.
Mobile Devices vs. Wearables
This raises the question, 'aren't the features of a wearable available on a mobile device?'
It seems simple - but the ability to glance at a smartwatch on your wrist saves the interruption of pulling a phone from your pocket or bag, just to find the information you need. For travellers in a rush with multiple pieces of luggage or a short time window, this can make all the difference. They're also less likely to miss important alerts, reminders, or important travel itinerary information such as flight status updates.
Many wearables offer 'glanceability' as a unique selling point, allowing travellers to discover new information about their surroundings while removing the distraction of a mobile device. This leads to quicker intake of information and creates a more immersive experience.
The Travel Itinerary
An effective travel itinerary can provide business travellers with all the details of their trip, in one consolidated single document. Ideally, travellers can access this from anywhere and easily locate all their documents such as boarding passes or hotel bookings.
Companies can customise their itineraries to provide a clutter and ad-free experience for their clients, allowing travellers to easily follow travel plans step-by-step. But how does this translate over to wearables?
One study shows that employees equipped with wearable technology experienced an 8.5% increase in productivity and a 3.5% increase in job satisfaction. Workers who are conscientious of their performance had an improved experience, and businesses can harness this to improve their travel too.
If employees are equipped with tools that allow them to better complete their tasks while on the move they can benefit from improved efficiency and a more streamlined experience. Here are a few ways the travel industry is jumping on the trend and helping businesses enhance their travel itineraries:
An unfamiliar city can be daunting to even the most experienced, but wearables can change this for busy travellers. It may seem novel, but emerging tech such as smart jackets can nudge travellers in the direction of their desired location by vibrating at the wearer's shoulders' to indicate left or right - so they can find their next meeting without even having to look at a screen. Of course, simpler applications are available, such as intuitive maps for smartwatches.
In an almost futuristic fashion, wearable smartwatches can now translate voice messages in real-time across several different languages. This can aid business travellers in deciphering language barriers, saving time and avoiding mistakes.
Applications are available that allow wearable-users to record their notes via voice dictation and store them in organised note form. For business travellers on the go, this can be crucial as they run from one meeting to another, or even just to record an important passing thought.
Wearables are even going so far as to ensure that you never miss a meeting again, with optimised calendar software bringing alerts straight to your wrist. While a phone may be tucked away in your pocket, notifications and countdowns to both business and personal events can be sent straight to a wearable.
Travellers can utilise wearables to track their sleep schedules and fitness – both efficient ways of managing stress. This also opens doors to help frequent business travellers improve productivity, with notifications to get more rest or embrace a more active routine.
One of the key benefits of wearables is that they can hypothetically deliver full travel itineraries to your wrist. This combines the time-saving benefits of wearables with the efficiency of detailed itineraries, creating an ideal travel experience. The potential for the future is fruitful, and ideally, there will be a time when travellers will never need to whip out a physical ticket or hotel booking again.
Travel itineraries should consistently deliver all the details needed for a traveller to complete a trip – start-to-finish. To create an effective itinerary, utilise GDS plugins that integrate even complex sources to ensure business travellers have everything they need. Wearable technology can then enhance this further by delivering your travel itineraries straight to the customer's wrist.
Should Wearables be Essential?
The perfect travel wearable would be compatible with all of your customer's devices - ranging from their smartphone to a desktop PC. It's arguable that as wearables grow in popularity, travel itineraries should be available there too. With a travel itinerary available on a wearable, it's easier for business travellers to simply glance at their next step.
Additionally, wearables can help to organise elements of unmanaged travel, by allowing travellers to intuitively translate languages, or find unlabelled locations all from their wrist. This fills in the blanks of poorly prepared itineraries and can help to catch missing notes, like cultural differences.
Are there barriers?
Some airlines have adopted wearables as a method for scanning boarding passes, in order to make boarding as swift as a swipe of the wrist – but not all have followed suit. Multiple airports across the world still do not accept smartwatch boarding passes, highlighting a layer of barriers still facing wearables.
Additionally, security concerns surrounding the wealth of personal data accumulated by wearables are still stalling their progress to become part of everyday travel routines.
However, the future of the wearables industry is looking promising, and there are opportunities for the travel and wearable industry to integrate further. GDS system plugins are already attending to some traveller needs and all the little details for travel itineraries, but in the future, wearables can surely enhance this.