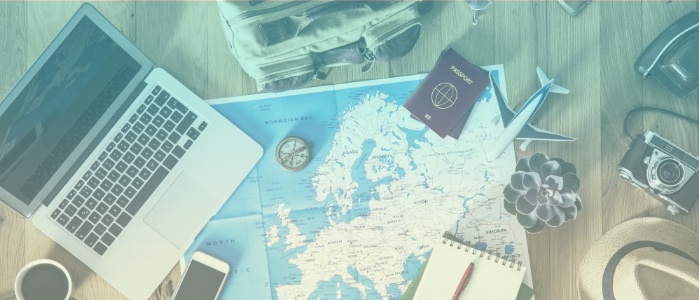 Business travel is often considered one of the most glamorous ways of living out of a suitcase – with expenses paid for and chauffeuring between locations, it can be pretty good opportunity to explore new parts of the world.
For companies that work globally, it's an opportunity to extend employee reach to international offices or meet with foreign clients to improve relationships. Companies choose to whisk their employees away across the globe to harness these benefits, but as exciting and fulfilling as it can be for travellers, there's no doubt it has plenty of potential to be a stressful experience too.
Is Travel Taking the Toll?
Business travellers must juggle travel arrangements, meetings and work-related responsibilities – all while dealing with the unfamiliarity of being away from home. Additionally, pre-trip planning, mounting unread emails, and managing expenses all take a mental toll.
For frequent travellers, this may not seem like a huge issue, but studies show that even the most experienced are at an increased risk of psychological and emotional burnout. Of course, most people would still jump at the opportunity to travel for work, so how can businesses cater to their employees and improve traveller satisfaction?
The Perfect Travel Itinerary
A well-prepared travel itinerary is the difference between a positive, productive trip and a stressful travel experience. Ideally, business travellers want to breeze through the airport, hop on to their connecting flight, and make it to their hotel – all in time for their important meeting.
No business wants to leave their travellers flustered or unsure of the next step, so providing a single consolidated document that includes every aspect of their trip can make all the difference. Remove the headache of numerous, disparate travel documents and embrace the value of a comprehensive travel itinerary – here are a handful of key benefits.
1. Streamline the Experience
Unlike leisure travellers, business travellers often need to hit the ground running. Many business travellers work during their journey too, and this may mean rushing straight to a time-critical meeting, so their journey needs to run smoothly with minimal confusion. TMCs often begin with GDS-generated itineraries to put travel plans together, but these can include a whole host of annoying advertisements that get in the way or deliver inconsistent information that misses important minor details.
The ideal travel itinerary includes everything your clients need, right down to the minor details. This could range from hotel bookings, room numbers, and check-in times to business meeting locations, transportation, or even restaurant reservations.
The increasing complexity of business travel itineraries means that a lot of these details now fall outside the range of automatically generated GDS itineraries. This is because they only include information booked through their own systems, or overlook key components such as booking notes.
Businesses should look for GDS systems and automation to include the full scope of an ideal itinerary. These systems can grab itinerary information from all external sources and place it into one uniform branded document to encompass the whole business trip – making it a streamlined experience for all.
Put simply, the perfect travel itinerary allows you to provide your business travellers with a chronological map of their travel process, removing the stress of on-the-spot decision making, and improving user experience.
2. Save Time and Money
When it comes down to it, business travellers are navigating across countries – or continents – with a task in hand. Ideally, they want to minimise time wastage and be able to spend more time working. GDS plugins enable your travellers to access a single, consolidated itinerary that removes the multi-document headache. Additionally, by automating and merging best available flight data with the rest of the travel itinerary, they can avoid lengthy layover times.
3. Give Travel Tips
Business travellers may also want extra time to squeeze in leisure-related components to their trip. Coined as 'bleisure', studies show that 49% of business travellers already extend their corporate trips to enjoy leisure time too.
More and more organisations are looking to improve employee satisfaction by gratifying the leisure components of travel, but not all want to spend company budget on these perks of travel.
Travel itineraries offer a way of including suggestions or prompts for leisure activities alongside the important business aspects of the trip. This could be restaurants, tourist sites, or places of interest depending on the company's plans for the trip. By doing this, business travellers and their company's alike can weigh up whether they have time to indulge in leisure activities or choose to focus solely on business.
4. Reduce Human Error
The most experienced flyers can succumb to the drain of continuous and lengthy travel, and even top-performing executives can become nervous by the prospect of a big meeting. Effective travel itineraries can encompass helpful tips and reminders to keep business travellers at ease. By helping clients to stay on top of trip essentials, well-prepared business itineraries can improve satisfaction, and in turn, build customer loyalty for your business.
A GDS add-on can help you to include reminders such as required travel document details, prompts for cultural differences, and emergency contacts or procedures. These minor details may not be pulled in automatically by generated GDS itineraries, as they tend to only include major booking information and not the booking notes.
Not only do these helpful cues reduce human error, but they can also provide an easier experience for your business travellers. Additionally, because the ideal travel itinerary is accessible on multiple devices, its easy for business travellers to check off the important details, and spend more time focusing on the job at hand.
A clear travel itinerary will streamline the business travel experience significantly, especially if you utilise smart plugins that include all the little details that really make a difference to your business traveller. Give your business the power to declutter travel itineraries, focus on all the details, improve user experience, and build customer loyalty with bespoke travel itineraries.