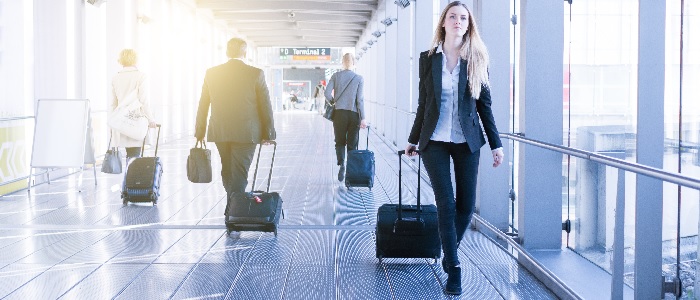 Today, the means to travel are more accessible than ever. Unlike only 25 years ago when walking into a high street travel agent was the norm and surfing the web was a slow process, travellers can now book travel plans in a matter of minutes online and quickly find competitive deals.
In fact, major research bodies such as Deloitte highlight digital innovation as the biggest contributor to transformation in the travel industry during the last decade, and these changes have impacted not only leisure, but business travel too.
From ticket booking methods to digitalised travel itineraries – rapid advancements in technology have altered the way travel managers deliver services to corporate customers. Businesses can reduce time-consuming processes while streamlining the management of employees' travel plans, enabling them to better leverage travel as a way to help their organisation make connections and grow.
This may be why 75% of contemporary professionals agree that technology has made it easier to plan and book business travel compared to a traditional travel agent, highlighting the travel industry's shift into the autonomous digital age.
Concerns in The Business Travel Industry
No expanding industry is immune to growing pains. Safety fears, an emerging sharing economy, and competitive travel rates are causing disruption in more ways than one.
Slow development in important corporate travel tools such as GDS systems or travel itineraries can become barriers to delivering optimal travel plans. Or, alternative ways of sourcing business travel such as casual, yet cost-effective, Airbnb accommodation and online booking can add an additional layer of complexity to choosing the ideal business travel experience.
What's more, the availability of smartphone, wearable, and artificial intelligence (AI) technologies that aid leisure travel has contributed to increasing corporate travel expectations – and businesses are striving to keep up. With these factors in mind, businesses must juggle methods of delivering a great corporate travel experience to their employees without sacrificing cost or compromising corporate duty of care.
So, how can businesses use technology to give their employees a travel experience which is more first-class service than fumbling hotel concierge? Here are four challenges the business travel industry is facing, and how they can be controlled:
1. Increasing Digital Expectations
Contemporary business workers are tech-savvy digital natives, and this translates to their travel expectations too. In the leisure travel industry, advancements in technology have given holidaymakers a new standard of creature comforts. Worldwide, 42% of travellers use smartphones to plan their trips, and the development of AI enables online customer service, bookings, or data processing without human intervention. Thus, digital technology has become the essential companion to any trip – but this leads to heightened expectations for business-level travel too.
Corporate travellers expect the digital interactions that they experience in their leisure travel, and without it, their journey can become disjointed. For example, businesses should be able to send employees an entire travel itinerary in a digital format to their mobile devices – so they can keep track of all of their travel plans in one place, at a glance, on-the-go. What's more, these travel itineraries should be free of unwanted third-party ads to provide corporate travellers with a clutter-free experience that mimics the ease of contemporary leisure travel.
Additionally, businesses should automate processes and enhance their GDS system so tedious processes, such as visa checking, can be completed in a matter of minutes digitally, rather than manually. This ensures that corporate travel runs smoothly and saves the time and human error of manually orchestrated travel plans.
2. Personalisation
According to Euromonitor, the next few years will see a surge in travellers requiring a personalised service. Leisure and business travellers alike will expect companies to suggest them customised products based on past behaviour or profiles, and 67% of people want their travel provider to personalise their communications to them.
With this in mind, corporate travel managers need to ensure that travel plans are built bespoke to individuals, rather than universal plans. To achieve this, businesses can customise their GDS systems with real-time PNR management to automatically keep track of individual employee needs, such as specific route details.
Not only does this automate the process of building a bespoke itinerary for travellers, but it also finds the best deals in real-time, saving both time and money. Corporate travellers will appreciate personalisation rather than the one-size-fits-all approach, as it makes their travel process easier – in turn encouraging compliant behaviour and helping businesses fulfil employee satisfaction.
3. Reputation Management
In a world where social media is rife, consumer opinion has never been more powerful. One negative event can have detrimental effects on an organisation, and a simple Twitter hashtag can cascade into a major public relations crisis.
No industry is more familiar with this predicament than the travel for leisure industry – which is no stranger to poor customer reviews or social media attention – think cancelled flights, bad hotels, and troublesome transfers.
And similarly, these problems can affect business travel too. For corporate travel managers, disgruntled customers can pose a problem. Poorly delivered travel communications and failure to notice important details, such as a significant layover (let's say, five hours waiting at an airport), can cause friction between a traveller and travel management. What's more, when travel management teams are solely in charge of manually juggling visa checking, finding the best deals, locating the right seats, and ensuring correct ticketing – it's easy to see how multiple tasks can lead to an imminent slip-up.
To tackle this, it's wise for businesses to customise their GDS systems to ensure they capture all the correct information in one place. Decoders for GDS data can put all essential information into one place and simplify information into the queen's English to create a user-friendly experience.
With this functionality, travel managers can view all important travel information in a readable and accurate format, updated in real-time, to ensure that no important details are missed. What's more, automated ticketing can check traveller information and ensure they're correctly ticketed – streamlining the business traveller experience – to increase customer satisfaction and helping you maintain your reputation.
4. Sharing Economy
The sharing economy refers to an economic system where services are shared between individuals, typically through the internet. For example, Airbnb enables customers to book online and automatically share the costs amongst guests – offering significant time and cost benefits to users.
With this in mind, corporate travel agents are now vying for credibility in a world that's increasingly open to the sharing economy. Businesses want the best deals, but traditional GDS systems may not be inclusive of sharing economy-based platforms. This leads to a reduction in bookings from conventional suppliers, which in turn, can negatively impact the deals and perks travel agents are able to offer businesses.
What's more, the sharing economy is harder to manage, and booking without GDS integration, tracking travellers, and managing expenses can become more complicated. To defeat this growing issue, businesses can customise their GDS with tools like Expedia Integrator to ensure full visibility of the best deals and offers, giving them a competitive advantage.
By instantly transferring and consolidating data from multiple providers, a powerful GDS system can help businesses deliver truly seamless and cost-effective travel. As the sharing economy is only predicted to grow, be it unevenly, its important corporate travel managers remain conscious of this growing challenge.


The Future of Business Travel
To meet the demands of business travel expectations, corporate travel managers should deploy smart integrations into their GDS. Not only can the competitive benefits help set you apart, it also increases customer satisfaction, saves time and costs, and streamlines the business traveller experience. Learn how business travel agents are optimising and customising their GDS systems in our e-book, or find out about the tangible benefits of GDS plugins, here.