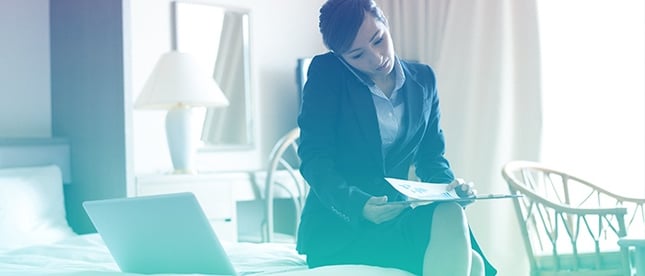 Today's travellers are increasingly discerning when it comes to their accommodation. In a recent report released by the Apartment Service Worldwide, it was found that there are 7 key facilities that business travellers look for when choosing accommodation.
Corporate travel comprises a significant proportion of spending within the $6.5 trillion-a-year global tourism industry, so it should come as little surprise that many TMCs and OTAs are now battling it out to become the most attractive option for business people.
But how can your business stand out from the crowd and better cater to the needs of the modern-day business traveller?
1. Connectivity
Providing free, fast-acting and reliable Wi-Fi is super important, especially in the world of corporate travel, where travellers often require a reliable internet connection at all times, including back at their hotel or accommodation. It is not then surprising that a whopping 83% of corporate travellers ranked connectivity as their highest priority when choosing accommodation.
Ensuring you can assess and prioritise connectivity when searching for accommodation is a great way for your company to become a more attractive option, stand out from the crowd, and become the premier provider of choice for corporate travellers.
2. Single Occupancy
In at number two on the list is the availability of single occupancy rooms, where 75% of business travellers prioritised single room living arrangements as being significant when booking accommodation.
When searching for accommodation for your travellers, having the widest array of rooms to choose from is obviously essential. Expedia is one the world's largest accommodation providers, and by utilising an integrator to search the details of hotels, your TMC can discover the perfect living arrangements for your traveller (and help to generate more business as a result.)
3 & 4. Family Accommodation and Shared Occupancy
Somewhat paradoxically considering priority #2, numbers three and four on the corporate ranking list are the availability of family and shared accommodation. This might initially seem counterintuitive or weird, but it could hint toward the ever-increasing bleisure activities of many modern-day travellers.
Business-leisure is a growing phenomenon where travellers make the most of their business travels to include personal time, sometimes bringing friends and family along for the ride. This might explain the high percentages of travellers who prioritised family rooms (49%) and shared occupancy (39%) for what would generally be considered solo trips.
5 & 6. In-house Services and Amenities
As we advance further down this list of corporate priorities, we stumble upon both in-house services and amenities. These regularly include anything from catering to laundry, to swimming pools and spas, and are frequently sought after by business travellers in particular. These solutions make the life of the traveller easier, either by saving time or enhancing comfort, and for this reason they are highly appealing.
Business travel can be pretty physically and mentally draining, so it might come as a surprise that only around a third of travellers ranked such solutions as a priority when booking accommodation. A potential explanation for this relatively low interest may stem from the fact that in many modern hotels such solutions are regularly included as standard. So a large percentage of corporate travellers may just take these sort of services and amenities for granted (lucky them).
7. 24-hour Manned Reception
A super under-rated facility that is found within only a handful of hotels is a 24-hour manned reception. On a business trip time-management is key, and there is little more frustrating than being delayed or unable to gain access to information, or facilities, because you simply can't find a member of staff to help you. Having a reception area that is manned day and night can be crucial for corporate travellers who tend to check in late at night and leave early in the morning.
So, it's probably not surprising to find 24-hour manned receptions on this list of corporate travel priorities. A sizeable 21% believe that any-time access to information and facilities is mega important to accommodation criteria, and as a TMC you should try to include this solution when booking accommodation for your travellers.
Conclusion
Today, corporate travellers are looking for TMCs that can provide them with accommodation that includes all the facilities they need to feel comfortable, relaxed and valued when away on business or bleisure.
In order for your TMC to become a more attractive solution for corporate travel you should try and cater to the booking demands of the modern-day businessperson. High-speed, dependable Wi-Fi is super important, and so is the availability of single, double and family rooms. In-house services and amenities can help your TMC become the premier provider of corporate travel, whilst the availability of a 24-hour manned reception is a pretty attractive, if not outright essential, addition to your booking schedule. For more information about how to improve your GDS so you can be a better travel company contact us today.