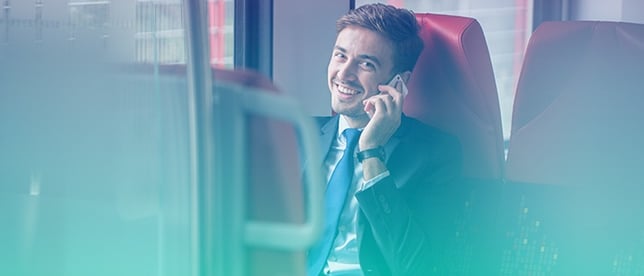 The modern business traveller spends a considerable time on the move. Whether this is to maintain commercial relationships, attend internal meetings, or close new business deals, the demand for transportation is high.
Transport, of course, comes in all shapes and sizes and varies extensively depending on whether you are travelling by road, sea, or sky. Yet in the case of corporate travel, it's not so much the method that's important but the facilities on offer, and understanding which resources are most desired by business travellers can be invaluable to TMCs and OTAs.
1. Efficiency
A report from Amadeus found that efficiency was the top priority for business travellers, with over a fifth (21%) commenting that they value the ability to get the job done effectively above all other considerations.
For many businesspeople time-management is a real concern. This is perhaps best illustrated by the rise of the sharing economy where services such as Uber and Lyft frequently help travellers to get around faster. This claim seems to be reinforced by research published by Skift, which found that almost half (48%) of corporate travellers now choose to use ride-sharing services over traditional ground transportation such as taxis and hotel shuttles.
Though a consideration, it is not necessarily the reduction in cost that is the defining factor for corporate travellers. The availability of a no-frills, self-service experience has changed passenger's expectations of transportation, something that had long been a major challenge. Providing efficient travel arrangements for your corporate travellers – so they have more freedom to make their own decisions about when, where and how they will travel – can be greatly beneficial and help your TMC to better cater to the needs of its customers.
2. Connectivity
In today's connected world, the ability to access corporate networks via Wi-Fi/internet while in the office, on the move, or in accommodation is a high priority for business travellers.
The provision of fast-acting Wi-Fi and a reliable internet connection, so that working on-the-move is a possibility, is no longer just favourable for business travellers – it's necessary. For your business to remain competitive, providing transportation that prioritises internet connectivity will have a considerable impact.
Poor connectivity is a common issue for corporate travellers, and air travel is particularly notorious for providing sub-standard Wi-Fi. Communicating with your travellers about the existence of internet hotspots or areas of high connectivity can help you to plan future travel arrangements more effectively, and ultimately help you to provide a better standard of care for your passengers.
3. Personalisation
Creating a customised experience for your travellers can be super important for your business.
Modern travellers are increasingly preoccupied with how to integrate business travel with the rest of their lives; for instance, enriching the trip experience by adding a leisure element or bringing a family member or friend along.
For a managed travel programme to be effective, it is important for your business to understand that travellers have unique habits and desires and there is no one-fits-all solution available. In the case of transport, understanding how your travellers prefer to travel, be it via train, taxi, or other solution, can enable you to personalise their trip more effectively and increase the chances of repeat business.
It can also be smart move to have a solution in place should a traveller require extra tickets/seats for friends and family. Although not necessarily the role of a TMC or OTA, providing a resolution to a potential traveller problem will only strengthen your relationships.
4. Dining Options
The modern-day traveller is far more conscious of what they eat, how much exercise they do, and the quality of the sleep they are getting. Finding transport options that help travellers to maximise these features will be greatly appreciated.
Airline food gets a bad rap, and often for good reason, after all it's difficult to produce high-quality cuisine while 20,000ft up. Other methods of transport, such as long-haul train journeys, don't tend to suffer as much, but the overall quality of the dining experience while travelling is certainly sub-par.
Providing your customers with an itinerary packed with advice and insight into the restaurants/dining options that are available – including healthy eating options – will be valuable to them, and it will also help your business to become the premier transport provider of choice for corporate travellers.
Conclusion
Today, modern travellers are used to living and working within a hyper-connected, on-demand world where services and experiences can be tailored to ensure that a working environment is maintained.
Transportation should complement this experience, not interrupt it. Offering a personalised transport experience which enables travellers to remain efficient, productive, and comfortable is key for traveller satisfaction. To provide the best standard of transportation for your travellers, you should enhance your GDS system – check out our full range of GDS add-ons to see how you can maximise your transportation offerings.