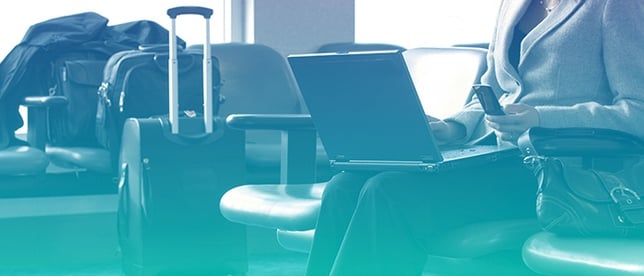 From virtual card purchases (VCNs) to voice-activated search, travel technology is transforming how TMCs engage with corporate travellers. And with 2017 now upon us, the advancement and adoption of travel technology is set to take yet another leap forward. So, to make sure you're ready for what's to come, here are 6 travel technology trends that will shape the corporate travel industry in 2017.
1. Multi-Device
The rise of mobile apps within the travel industry has been well documented. However, the trend is not necessarily all about the use of mobile in business travel, it is also about business travellers using a range of multiple devices. Digital travel content consumption, in general, has risen by 44% amongst UK business travellers in the past year, with 54% of it being viewed on multiple devices. And, with the exception of laptops, UK airline passengers will increase their usage of devices, including smartphones, tablets and smartwatches.
Although wearable technology remains a niche, 2017 could see innovative travel companies using wearables to improve engagement with travellers and making use of extra functionalities, such as GPS trackers. What's more, as smartwatch owners mainly fit into a more affluent class of passenger, luxury ancillary services may be more attractive to them. So, to ensure they don't get let behind, TMCs should consider moving their travel software to a range of devices and platforms.
2. Sharing Economy
The popularity of sharing economy services is growing at an alarming rate, and it's predicted that their revenue will be equal to that of the traditional rental industry by 2025. Understandably, this is worrying hotel and serviced apartment owners who are having to compete with the likes of AirBnB - predicted to have the largest IPO in 2017.
But perhaps they don't need to worry. A recent report shows that AirBnB isn't replacing the serviced apartment industry for business travel any time soon. It seems that business travellers don't trust AirBnB listings to deliver the services they have come to expect, such as free Wi-Fi and single occupancy tenancy. And even if they were to consider AirBnB, a fifth of all business travellers are unsure if they're allowed to under their company's travel policy.
3. Virtual Card Purchases
Last year we predicted that VCNs would become the standard means of payment for air travel and, in many respects, we were right. The automatic syncing of payment data and the improved security has increased the adoption of VCN over the past year, but it has also moved beyond this and into fully integrated virtual card payment solutions.
Recently, Sabre has shown its faith in virtual card purchases by integrating with Conferma. Sabre believes this will increase the security beyond what was previously offered by VCNs, as the VCN is created within Sabre's GDS rather than being transferred externally. What's more, this new payment system allows more data to be forwarded onto the traveller's third-party systems, allowing them to decode more GDS data. Previously there hasn't been a full integrated solution, but now it's available, the adoption of VCNs could see a rapid increase.
4. Artificial Intelligence
Over the past year, we have seen the emergence and expansion of artificial intelligence in business travel. AI has integrated into apps and software to enable companies to interact with travellers at every stage of their journey. Although still in their infancy, AI chatbots are being used to improve customer service, allowing travellers to receive instant responses to their requests and queries.
Throughout 2017, AI chat bots may gain traction with travel companies seeking new ways to add further value to their travel technology. For example, AI can learn patterns in user behaviour to identify traveller preferences. Seeing this integrated into GDSs could revolutionise how passenger name records (PNR) and advance passenger info systems (APIS) are managed.
5. Voice-Activated Search
At Skift's Global Forum 2016, CEO of Expedia Dara Khosrowshahi was asked what disruptive factor could make global travel companies obsolete in five years. His answer: voice activated search.
For years, travellers have been trained to input information using well-defined fields, and as a result, booking paths and databases are heavily structured. The standardised nature of search meant that TMCs could easily manage the data in the travel industry. However, voice interactions will change this - search queries become so flexible and conversational that global travel companies may be unable to decode. Time will tell whether global travel companies can adapt to this change, but Expedia's CEO was surprisingly honest when he said that it may require expertise from other digital heavyweights, such as Google.
The change in travel search could negatively affect metasearch companies, as it presents alternative distribution channels to OTAs. Kayak, Skyscanner, Trivago etc. may have to rethink their position in the booking funnel as OTAs look to new voice 'assistants' and mobile apps to manage bookings. Skyscanner was the first to notice the trend and took action by integrating their API into Alexa, Amazon's AI-powered voice service. We expect others to follow suit in 2017.
6. New Distribution Capability
IATA's NDC was set up to standardise the end-to-end airline distribution process, and it's well on its way to doing so. At least 90 airlines are planning to implement NDC by 2020. The adoption of NDC is likely to increase ancillary product sales by airlines in 2017.
For distribution intermediaries, the NDC allows them to sell ancillary products, such as extra baggage allowance and seat reservations, at an earlier stage. Experts at the Flight Global/T2RL believe that 'developments with NDC and online distribution in general are going to make the landscape more complex, meaning more content will need to be aggregated by GDSs'. And with rich, complex data, the TMCs will be able to personalise broad corporate travel policies at an individual or group level. Beyond this, discussions around the integration of NDC and other future technology, such as VR, have begun. But for now, TMCs should focus on getting ready for NDC.
To exploit future opportunities and to keep up with advancements in technology, your GDS needs to cover a range of purposes. Our GDS add-ons provide you with off-the-shelf solutions compatible with all major GDSs.