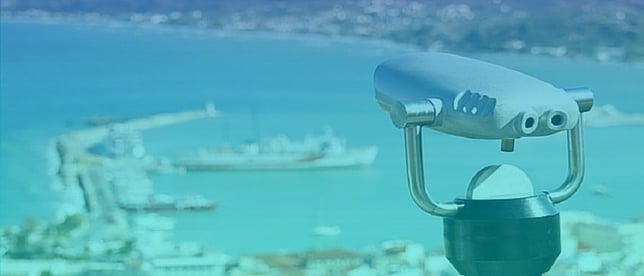 No doubt the year ahead will provide plenty of surprises, but these are the topics we foresee on the travel horizon.
Luggage Tracking
The Internet of Things is now our everyday reality, and we expect that we will see it take its place in the travel industry with a surge in luggage tracker uptake, in addition to a rise in the use of permanent electronic tags.
Last year British Airways and Air France-KLM, among others, performed permanent e-tag trials for luggage, while the likes of Brussels Airlines said they were in the process of developing their own solution. In September, American Airlines unceremoniously added a bag tracker system to its website. And throughout the year, a number of third party tracking solutions appeared on the market.
Domestic services are leading the way when it comes to permanent e-tags, and Europe may well lag behind when it comes to international roll-out, due to the special green stripe required to distinguish bags travelling within the EU from those coming from outside of it.
However, we expect to see more personal trackers appearing over the coming months, and hope that 2016 will be the year that passengers begin to be able to take control of luggage tracing en masse.
Now we're considering the next step. One suggestion is digital passenger smart cards, which act act as your boarding card and replace your frequent flyer card, bundled with e-tag technology to track your luggage.
Lufthansa and the GDS Surcharge
Lufthansa's €16 surcharge for GDS bookings was one of the most talked about moves of 2015, and we expect that the conversation will continue well into 2016. Many thought that the proposed levy would not come to fruition at all, but Lufthansa held firm and the charge is now in place.
The question now is whether other airlines will follow suit with similar charges, or will Lufthansa continue to stand alone or even finally make the U-turn that so many industry experts were sure we would see.
Should more airlines introduce a surcharge, agencies will find themselves having to amend their booking processes per the airline in question to get around the charge or increase their fares to accommodate it. Assistance may be found in the speedy adoption of the NDC standard, and perhaps the sting of these charges is what is needed to increase NDC awareness.
Whatever happens, this has provided a real shock to the system for GDSs, and we are really interested to see if it leads to shake-up of the GDS status quo.
NDC Continues to Gain Traction
The New Distribution Capability (NDC), which paves the way for third parties to sell all airline products, including ancillaries, could instigate change in the entire payment model for the travel industry. Some TMCs and travel agents will be able to improve the transparency of their pricing in addition to increasing their product line, not just at the point of sale, but after bookings have been made too.
If properly adopted, the XML-based standard should offer benefits to airlines, GDSs and TMCs/travel agents, and in turn allow all to offer an improved and enhanced customer buying experience.
IATA got the process well underway last year, so it's the implementations that will be really interesting to see in 2016, and the question of how this will affect the balance of direct and agency purchased travel.
The Irresistible Rise of the VCN
We expect to see Virtual Card Number adoption rise steeply in the year ahead, as VCNs offer a number of benefits over traditional corporate payment methods.
The traditional headache associated with having to reconcile booking and payment data is vastly reduced, because much of reconciliation is automatic and happens when the VCN is generated, markedly simplifying the process.

It also hugely improves security, all but cutting out the risk of fraud entirely. An individual VCN is only valid and usable for a limited period of time, with a restricted limit on spend and available only for use with a particular category of merchant. Even if the VCN should "fall into the wrong hands", it will be pretty much useless to them.

It allows companies to ensure that payments are kept in line with their T&E policy – you can control the parameters around every payment, such as payee, location and amount.
They also allow employees that do not have corporate credit card access to avoid out of pocket expenses, since VCN payments operate in the same way as card-not-present transactions.
We believe in 2016 VCNs will no longer be seen as "the future" for travel payments but may well begin to be considered the standard.
The Sharing Economy
Last year, we posted a number of articles on the sharing economy, its pros and cons, and its effects on TMCs and the travel industry. These effects will continue to be felt throughout 2016, but in the meantime, you can read our free report on the current state of play.