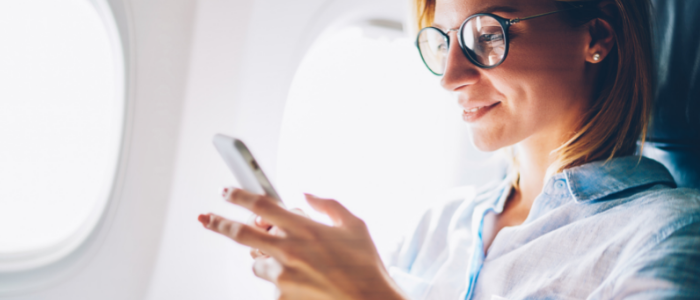 Itineraries can make or break a business trip. A well-prepared business travel itinerary saves time and reduces friction. It helps your customers keep on top of their schedule, stay within budget, and adapt to flight cancellations and other sudden changes.
In the past, preparing a detailed business travel itinerary took time and effort. But today, travel management companies can use flexible templates to streamline the process. So, what should you include in your itinerary and how do you bring it all together?
The Key Elements of a Business Travel Itinerary Template
Flight Details
44% of passengers say air travel is more stressful than a day with the in-laws or going to the dentist. You can relieve some of that pressure by providing your customers with all their flight details in a comprehensive document that includes:
Name of airport
Terminal and seat number
Date of travel
Check-in times
Departure and arrival times
You should also include information on travel arrangements to and from the airport, so the customer knows where they're supposed to be at every stage of their journey.
Accommodation Details
After a long and tiring flight, most business travellers just want to check in to their hotel, drop off their bags, and unwind. Including the name, address, and phone number of the traveller's accommodation in your itinerary, along with their reservation number, gives them one less thing to worry about when they land.
This also gives them a point of contact, should an unforeseen delay put them at risk of missing their check-in time.
Agenda
Most people are familiar with the concept of "bleisure". But, as nice as it is to explore a new country or experience the local culture in between meetings, business trips are about business. To keep travellers on track, you should include a clear agenda in your business travel itinerary templates.
This should include:
The time and location of every meeting
The name and contact details of the participants
Information on any other events that take place outside of normal working hours, such as dinner with a prospective client
Daily Budget
It's all too easy to go over budget when travelling on business. Even the most experienced and disciplined travellers can fall into the trap of spending more than they intended on restaurants, taxis, and souvenirs. A recommended daily budget, adjusted to the local exchange rate, makes it easier for travellers to keep track of their funds and avoid overspending.
Local Information
Visiting a new place for the first time can be overwhelming. Add a section to your business travel itinerary templates that provide customers with useful information about the local area. This could include everything from weather forecasts to local customs, dress code, and tipping etiquette.
How to Create a Business Travel Itinerary
Now that you know what to include in your business travel itinerary templates, it's time to put it all together.
1. Plan Ahead
Preparation is the cornerstone of a good itinerary and, by extension, a successful business trip.
Book your customer's flights, hire cars, and accommodation well in advance. Not only does this provide greater flexibility should you need to make last-minute changes to the itinerary, but it also ensures you can find the best deals for your customers.
We recommend booking at least a month before the trip is due to take place.
2. Keep Information Simple and Accessible
Business travel is stressful enough without forcing your customers to switch between multiple apps and documents to manage their trip. Instead, organise your customer's itinerary into a single document.
This should be available in multiple formats so your customers can access key information in whatever way they choose – whether that's on their smartphone or a physical document. This isn't as complicated or time-consuming as it might sound. Today, there are plenty of travel apps that allow you to quickly export business travel itinerary templates into Word documents, email, PDFs, and more.
3. Make it Mobile-Friendly
Smartphones are essential for business travellers. Statistics show that over 70% of US travellers "always" use their mobile devices during trips – to get directions, locate restaurants, research leisure activities etc. So, it's vital your itineraries are readily available and easy to read on a wide range of mobile devices.
4. Thoroughly Brief Your Travellers
Depending on the destination, it may be necessary to brief your travellers before they depart. This doesn't have to be formal. It could be something as simple as an email you send alongside the itinerary with an update on any relevant security, health, or extreme weather risks and what they can do to avoid them.
The itinerary should also have emergency contact details, information on nearby medical facilities, and the location of their embassy. This isn't just about giving travellers peace of mind. It's a fundamental part of your duty of care.
Experience Bespoke Business Travel Itinerary Templates
A well thought out business travel itinerary template does more than save you time. It enhances the customer experience, ensuring every aspect of the trip is easily accessible.
Itin to X lets you create bespoke, branded business travel itinerary templates quickly and easily. Like all our smart add-ons, it works with any GDS. So you can provide seamless, friction-free experiences to every customer.