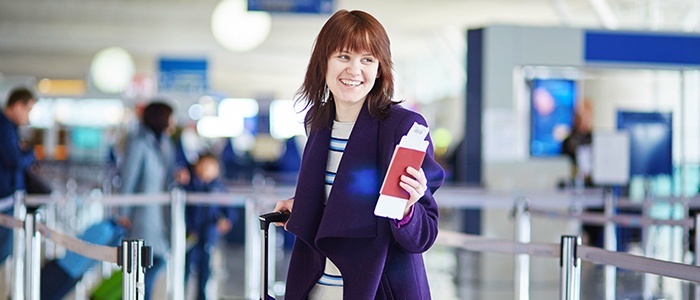 We've all come across the recipient of a great business travel itinerary on our travels: it's usually the guy or gal gliding serenely through baggage collection and into a waiting taxi as you stand flustered in arrivals. But what goes into the perfect itinerary? And what can TMCs do to ensure their travellers return from business trips satisfied?
1. Deliver it in a Single, Consolidated Document
Starting with the obvious, any itinerary you prepare for your business travellers should include everything they need, and we do mean everything.
An ideal itinerary will cover everything from hotel details such as check-in times, room number, and the location of the hotel, through to flight schedules and any ground travel arrangements.
What's more, it should be delivered in a single, easy-to-read document that's accessible in whatever format your travellers require. It'll also earn you some goodwill if the itinerary is free of third-party ads cluttering the margins and consistent with your TMC's branding.
Fortunately, there are plenty of apps and add-ons available to help you do just that. From widgets that export itineraries direct from your PNR—into pdf, word document, email or web formats to itinerary delivery apps—creating easy-to-use itineraries has never been easier.
2. Ensure Smartphone and Tablet Compatibility
According to GBTA's 2016 Business Traveller Sentiment Index, some 64% of business travellers check their itinerary details every day via a smartphone or tablet (a figure that jumps to 72% for millennials), so it's crucial any itineraries you create are accessible on a wide range of devices.
Device responsiveness is almost an industry standard these days, but it's important you pair with a technology provider that can ensure your itineraries are easy-to-read and accessible regardless of the device they're viewed on. After all, what use is an itinerary that can't be read?
3. Book Well in Advance
This might sound like something your parents would say, but, like a lot of parental advice, it's based on sound logic.
A good TMC will get their business travellers the best deals, on hotels, flights and any little extras. Unsurprisingly, the best way to achieve this is the same as it ever was: get in early. What has changed is that TMCs now have an abundance of tools to help them spot and book the best deals for travellers.
For example, third-party integrations such as Expedia's Affiliate Network (EAN) give you a portal to over 350,000 properties worldwide, on top of what you'd ordinarily receive from your GDS—adding a huge range of choice and access to the best fare aggregator deals.
And gone are the days when getting the best deal meant watching flight schedules with an eagle eye. Tools such as automated schedule trackers can help you keep on top of the latest route deals and trigger alerts based upon each traveller's unique requirements, meaning there's no excuse for missing that great deal on flights.
Even booking the travellers' preferred seats at the right price, once the bane of many a travel manager's existence, is relatively pain-free with modern technology. Seat tracking applications allow you to set up a wish list of classes or seats and provide alerts the moment desired seats become available. So, you'll be able to keep an eye on seats from the moment the request comes in, making the slippery business of seat booking much more likely to yield success.
4. Provide an Accurate Trip Briefing
Anxiety is a very real issue for the modern business traveller, and, with geopolitical turmoil dominating the news cycle, the terror threat at an all-time high, and ever more extreme weather, it's little wonder.
While you can't give your travellers complete peace of mind—sadly a hysterical media makes that near-impossible—adding a risk assessment component into your itineraries can really help.
In practice, this could be an email detailing both security and health risks associated with travelling to the destination and, where possible, how to avoid them. Alongside this, you should include in the itinerary details of who to contact in the event of an emergency, where to seek medical attention locally, and where to find embassies.
Simply giving travellers the feeling they're prepared for their destination and are being well looked after can go a long way to assuaging any anxiety, as well as fulfilling duty of care requirements and delivering an itinerary that sets you apart.
5. Allow Time for Leisure
"Bleisure"—the combination of business and leisure travel—has been one of this year's buzzwords, and with good reason. According to Travel Weekly, the proportion of business trips that have a leisure component continues to increase year-on-year.
A growing number of companies are waking up to the idea that a great way to boost traveller satisfaction and employee well-being is to allow for leisure time during business trips.
Obviously, whether you include leisure activities in your itineraries is down to each client's travel policy and the traveller's own preferences. But for those TMCs that do, it's a great way to add something a little different. You can keep it simple by, for instance, adding suggestions on which local attractions and cultural haunts to visit, where to eat, or a list of interesting events going on during their stay. Or, you could even take it a step further and actively book leisure activities for your clients.
Either way, mixing business and pleasure in your itineraries is not only a great way to differentiate your TMC, it's also a great business opportunity.
Delivering the perfect itinerary is the holy grail of business travel management. Fortunately for travel managers, achieving it no longer requires divine intervention. There are a wealth of tools available for preparing a comprehensive, easy-to-read itinerary and chief among these are add-ons to your existing GDS. To find out more, check out our range of GDS add-ons by following the link below.