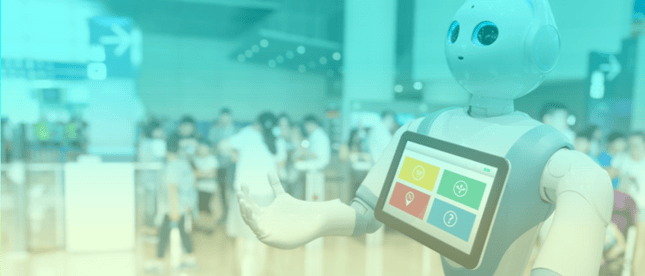 With 2017 quickly coming to a close, it's natural to reflect on the last 12 months and begin to think about how the world of business travel management will change over the next year. No doubt, it'll be closely tied to the evolution of travel technology and, , so we've rounded up the tech trends to watch for in 2018.
Hyper-Personalisation
The idea of personalised business travel is nothing new to travel managers, but as our ability to collect and analyse data improves, so does the level of personalisation we can offer. As we edge towards 2018, it may be time to commit to a more "traveller-centric" experience.
Giving travellers the freedom and flexibility to create their ideal business trip by making their own booking choices (within reason) can be a beneficial form of personalisation, but the art of putting together the perfect itinerary isn't dead just yet.
Whether directly through booking information or post-trip feedback, it's now easier to track a traveller's preferences and dislikes in more depth and across a wider range of trip elements – for example, aisle or window seating on plane, or which ancillary products they make use of.
This makes it possible to put together a hyper-personalised itinerary, enabling you to provide an ideal business trip that leaves travellers 100% satisfied, without having to shop around themselves. And with data-sharing between organisations on the rise, itineraries can also be aligned with those of other travellers to maximise networking opportunities, increase collaboration or offer a mix of business and leisure experiences.
AI Chat-Bots
As we move towards business travel management that's more convenient for travellers, it's no surprise that 2017 has seen organisations like Expedia and Kayak explore the use of AI chat-bots to deliver personalised business travel recommendations while freeing up staff for higher-value tasks.
All travellers will need to do is enter a destination and travel dates into a live-chat interface like Facebook Messenger, and the AI will search your connected systems for appropriate travel options in real-time.
Recent predictions claim AI will power 95% of customer interactions by 2025 and, with many other TMCs likely to follow suit in 2018, it might not be long before a lack of chatbot integration will set yourself apart from competitors – in all the wrong ways.
Voice-Enabled Apps
Despite Siri having existed for a few years now, 2017 was the year that voice-search really hit the mainstream thanks to Amazon Echo and Google Home technologies that use speech recognition advanced enough to feel natural and seamless.
As yet, nobody has achieved clear dominion over this market, but many travel companies are beginning to integrate voice-activation into their apps to capitalise on the trend of traditional user-interfaces being replaced by voice search and activation.
Voice-technology is advancing alongside other technologies like chatbots, wearables and augmented reality to tear down traditional application interfaces. The age of a screen and keypad could be coming to an end, replaced with innovative applications that use a more natural-feeling form of interaction – applications that customers can, and want to, use every day.
Unlosable Luggage
A booking.com study revealed that over one in five (22%) of business travellers suffer anxiety over the fear of their luggage being lost. But 2018 could see the emergence of a travel technology trend to put an end to this worry.
QTrace, which is essentially a small Bluetooth tracker that pairs with a mobile to make it easy to find lost items, is regarded as one of the next big things by travel tech industry experts.
Not only can this be placed in your luggage to help you locate it during travel, it can help you keep track of your bags when exploring new places and alert you if you're about to leave it behind. It can also be attached to other valuables like your wallet, keys and passport to help alleviate anxiety and even help locate your mobile when it goes missing.
Trying to track down lost items is bad enough when you're at home, but in a foreign country it can be a total nightmare. With QTrace you can locate your valuable in a matter of minutes, to save your business travellers precious time and peace of mind.
Biometrics
Despite having long been prophesised as the future, biometric technology has yet to revolutionise airport security or check-in procedures for business travellers. However, 2018 could be an important year for the introduction of biometrics, as the current infrastructure is pushed to its limits.
Appropriate biometric technology already exists and seems fit-for-purpose, but concerns over privacy appear to be a sticking point. Ideally, a solution needs to arise soon to accommodate the growth of air travel (predicted to double over the next 20 years to over 7bn passengers a year) and efficiently handle responses to the rising threat of terrorism.
2017 saw some airports in America trial the use of facial-recognition and fingerprint reading technology in an attempt to speed up lines – much to the delight of some business travellers. Only time will tell whether or not 2018 will see these processes become the norm.
Travel Robots
We've already included AI chatbots in our list of travel tech trends to watch in 2018, but you should keep an eye out for robots that can walk the walk, as well as talk the talk, in the upcoming year.
In preparation for next years' Seoul 2018 Winter Olympics, South Korea's largest airport has been playing host to two types of incredible robot workers. Guide Robots have been helping passengers navigate crowded terminals, while Cleaning Robots, unsurprisingly, keep things tidy - quickly learning the areas most likely to need frequent cleaning and figuring out most efficient ways to keep things in order.
These aren't the first robots to make an appearance as part of the air travel experience, with select airports in the USA also running trials of AI assistants in the recent past. If tests continue to be successful, there's no doubt the robot revolution will continue to take over airports.

Obviously the future isn't written in stone, so any ambitious TMC will need to be prepared to embrace emerging technology if they want to take advantage of business travel's predicted growth.
How can your business integrate or include some of our travel tech trends to watch out for in 2018? Sometimes this might require the addition of functions or features to your existing technology. To find out more about how Navitas can help create unique solutions for your travel tech click here or on the image below.