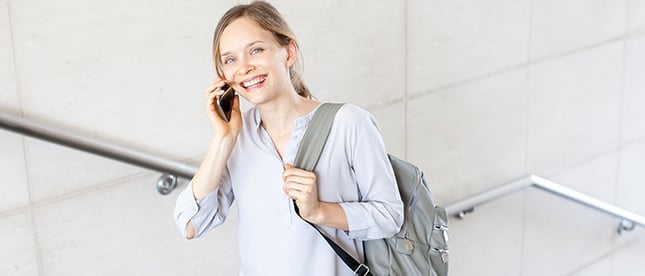 Most travel managers are aware of the importance of traveller satisfaction by now. Satisfied business travellers are less likely to deviate from policy, and, according to research published last year by the GBTA: "Unsatisfied employees cost our workforces billions in lost productivity each year." So far, so simple, but for travel managers "how" is often the hard part. Widespread traveller satisfaction can seem like the holy grail of travel management, always just beyond your grasp. So where do you start?
Give Travellers Choice
We're used to endless choice in our daily lives – from what we eat, to where we holiday, to who we bank with. As a result, corporate travellers are the most discerning and price sensitive they've ever been. Last year's GBTA research revealed that business travellers, particularly millennials, value a variety of options to choose from, specifically those that align with their individual travel preferences.
Research also shows that many business travellers aren't afraid to go off policy to find what they're looking for. So, what can TMCs do to counter the rise of the "do it yourself" mentality among business travellers?
The answer is actually very simple: give business travellers the choice they demand.
Most business travellers who go off-policy are going to use a travel fare aggregator such as Expedia, so why not give them access to it through you? This is exactly what many TMCs do through programmes like Expedia's Affiliate Network (EAN) which gives access to all of Expedia's online content through your GDS.
The benefits of integration are vast: suddenly you can give travellers a whole new range of cost-effective and flexible options, on top of what you would ordinarily offer through your GDS. Expedia has access to over 350,000 properties worldwide, often including Airbnb style rental apartments as well as hotels, so travellers should be able to find accommodation to suit their tastes, no matter how idiosyncratic.
Reduce Trip Friction
The concept of trip or traveller friction has been part of the business travel lexicon for a while. Broadly speaking, it's a catch-all term for the personal and professional affects business travel can have on the traveller.
Causes of trip friction can range from bad seats on a flight, to poor accommodation, to problems at passport control or even having the incorrect tickets. The common thread in these examples is that they turn an otherwise smooth trip into a stressful one. Bear in mind that one bad traveller experience can result in bad press, damage to your reputation or even loss of clients, and the importance of reducing trip friction becomes clear.
Once upon a time, countering trip friction meant a lot of manual work for travel managers checking and double-checking tickets, time spent researching visa requirements, and the eyes of a hawk to spot and snap up the best seats for your clients.
Now, it's a case of harnessing the right technology. Automatic visa checking can help your business travellers avoid any embarrassing oversights at passport control. Flight monitoring tools allow you to draw up a wish list of seats for your clients and alert you to released seats the minute they become available - some even search for cancellations in closed classes in case your luck is in. Even successful ticketing is no longer subject to the foibles of human memory with automated ticket inspection.
Technology can help you counter many of the scenarios that lead to trip friction and poor traveller satisfaction. Obviously, there will always be things that remain beyond your control: no technology is going to keep your travellers happy in the event of an airport strike for instance, but by using technology to reduce the scope for human error you can at least minimise the likelihood of more run-of-the-mill foul-ups.
Make Them Feel Safe
We live in an age of increasing geopolitical turmoil, and it's no coincidence that traveller anxiety is rising alongside the global increase in nativism and political tension. Some have taken to labelling this phenomenon "permanxiety", but whatever your chosen term, it's clear that travellers feel less secure they did just a few years ago. So, key to increasing traveller satisfaction is making your travellers feel safe, despite the geopolitical storm raging outside.
It could be a case of providing comprehensive risk reports to your travellers before they travel, tracking them during their time away, or even something as simple as recommending some smartphone apps to help calm an anxious mind. Whichever method you choose, investing a little time to make sure your travellers feel safe can have a significant impact on their peace of mind and overall satisfaction with their trip and your management of their travel.
Keep Communication Simple
Finally, keep your communication with your travellers simple. Business travellers lead hectic lives; so, no one wants multiple itinerary emails, filled with unwanted third-party advertisements, in a hard-to-read format. After all, what's the use of a confusing itinerary?
Instead, offering travellers a single consolidated document, clearly laid out, and detailing every stage of travel is a surefire way to boost satisfaction. Making your travellers lives easier will always be met with approval, and with plenty of travel itinerary templates tools on the market, it's easier than ever to provide them with customer-friendly communication.
Traveller satisfaction can be a tough nut to crack, particularly as business travel becomes ever more precarious, but these simple suggestions are a great place to start. For more on how to boost traveller satisfaction through technology, take a look at our GDS add-ons, designed with traveller satisfaction in mind.