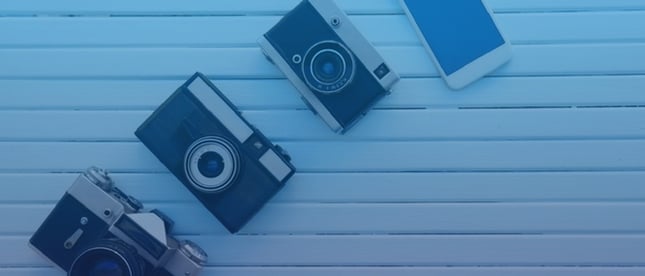 The corporate travel management industry has always evolved quickly, so being adaptable is a vital skill for anybody working at a TMC – particularly where technology is concerned. But where is the evolution of travel management taking us?
Less Human Contact with Clients
It might sound paradoxical, but by doing away with the majority of client-facing actions performed by your staff you'll be able to improve your customer experience. And it's likely to be one of the most noticeable facets of TMC evolution.
That's right, soon you can expect AI to handle the majority of your customer service tasks, from responding to enquiries to providing information. After all, AI has the benefit of being available 24/7/365.
Many prominent travel businesses (Expedia and Kayak to name two) have already gone down this route, integrating AI-chatbots into their preferred customer service live-chat applications. This empowers travellers to enter a destination and travel dates into the chat window, with the AI searching your systems to deliver personalised recommendations, and frees up staff for higher value tasks.
You don't need to worry about your customers mourning the loss of the human touch from your customer service though.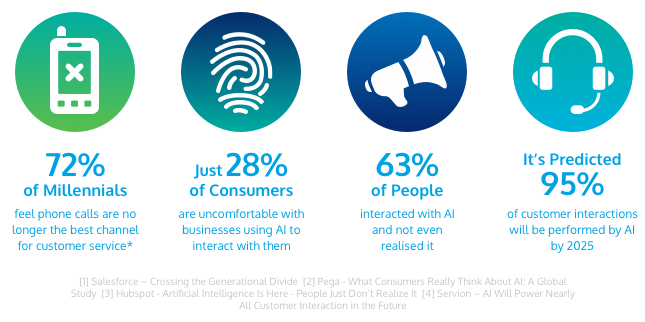 Voice-Activated Technology Replacing Traditional UI
Not only is the introduction of AI to travel management an opportunity to reduce the amount of high-effort, low-value work you need to perform, it's also a chance for you to redefine how your customer interacts with your organisation.
2017 felt like a watershed moment for voice-search, with Amazon Echo and Google Home finally bringing voice-first interfaces into the mainstream – and into millions of consumer homes.
This wasn't just a big step for voice technology though, it was also a huge leap for alternative application interfaces. Finally, proof that an interface doesn't need a screen to be commercially viable, opening up the door for TMCs to craft a more natural user-experience that doesn't require travellers to read, tap, click, scroll, pinch or swipe.
And the recent launch of Alexa for Business is making it easier than ever for TMCs of all shapes and sizes to introduce voice-activated technology to their apps.
Itineraries Delivered by Wearable
It isn't just voice technology that's tearing down traditional UIs. Your TMC also needs to get to grips with the wearable revolution, so it can deliver itineraries in formats travellers find convenient and easy to understand
One obvious example of how this might function is smartwatches. Currently they enable you to check text messages, Facebook Messengers and emails, so you need to ensure you know how to format itineraries so they can be easily read on a smartwatch.
The release of the Apple Watch 4 later this year will add new functionalities, so you should also be ready to capitalise on any new apps which enable you to better deliver itineraries to travellers. Likewise, as smart-optics like Google Glass and smart-earphones like Pixel Buds become more popular, you'll need to understand how to deliver itineraries to these devices.
The wearable revolution in the business travel industry will go further than just delivering itineraries though, and you'll need to think of innovative new ways to assist travellers throughout business travel using smartwatches, smart earbuds and smart-optics.
Biometric Identification
With air-traffic predicted to double over the next 20 years, air travel infrastructure could be pushed to its limits as the world tries to effectively respond to the rising threat of terrorism.
Existing biometric technology is seemingly fit for purpose, so it's no surprise some airports and airlines are already testing ways facial recognition technology can help create a frictionless business travel experience.
Last year's Global Passenger Survey from the International Air Transport Association (IATA) revealed that 82% of travellers would like to be able to use a digital passport on their smartphones, and 64% would be in favour of biometric identification.
With so many business travellers wanting to implement biometric ID into their airport experience, TMCs need to begin research on how they can ensure their clients have this technology available to them.
Or, to quote Nick Careen, IATA's Senior Vice President for Airport, Passenger, Cargo and Security: "The technology exists. Its use in aviation needs to be accelerated. Governments need to take the lead by working with industry to establish a trusted framework and agreeing the global standards and security protocols needed to use the technology."
Personalisation through Integration
Personalised business travel shouldn't be anything new to any TMC worth its salt. It can be as simple as taking traveller data you've collected and using that to create itineraries based on previous experiences – with TMCs who collect post-trip feedback from travellers already at an advantage.
As more travellers become comfortable with their data being shared between apps, and even organisations, the pool of data you use to make suggestions from will expand. This will allow you to make suggestions that leave travellers 100% satisfied.
Integrating a traveller's calendar with your own app means you no longer need to worry about your suggestions conflicting with other plans and the chance of an accidental double-booking.
Likewise, integrating social media data in your app would allow you to make suggestions based on traveller likes or interests – ensuring you're able to capitalise on the bleisure trend. This could even help you suggest networking opportunities based on LinkedIn connections who are also in the area.
End-to-End, Hands-Free Travel Management
When you combine all these ideas of how TMCs will evolve, it provides a pretty clear direction to aim for – a completely seamless and natural business travel experience, from the initial traveller enquiry to collecting post-trip feedback.
Or the slightly snappier, "end-to-end, hands-free travel management".
Soon you may be able to forget about traditional aspects of business travel management like searching for the best prices on travel components, responding to customer enquiries or constructing itineraries for yourself.
Instead you'll need to answer questions like:
How can I eliminate screens from the business travel experience?
Can virtual or augmented reality be used to better prepare travelers?
How can I ensure travellers receive information at the time when they need it?
Where can I collect more data to help inform trip-personalisation?
Are there more aspects of my job which can be automated?
What will undoubtedly remain is your ability to cost-effectively meet travellers' needs and provide a better business travel experience – evidently, technology will play a huge part.
As ever, it's important to note the value of human travel managers. A large part of the value delivered by TMCs is in managing the complex multi-leg trips that make up the majority of business travel. The parameters of these trips are rarely straight-forward, therefore it is often easier and preferable for travellers to simply communicate with a human travel manager.
At Navitas we help TMCs inntegrate the technology they need to keep up with fast-paced evolution of business travel. If you've got an idea of how you can better use technology but aren't sure how to make it a reality you can get in touch to find out more about our custom development services.